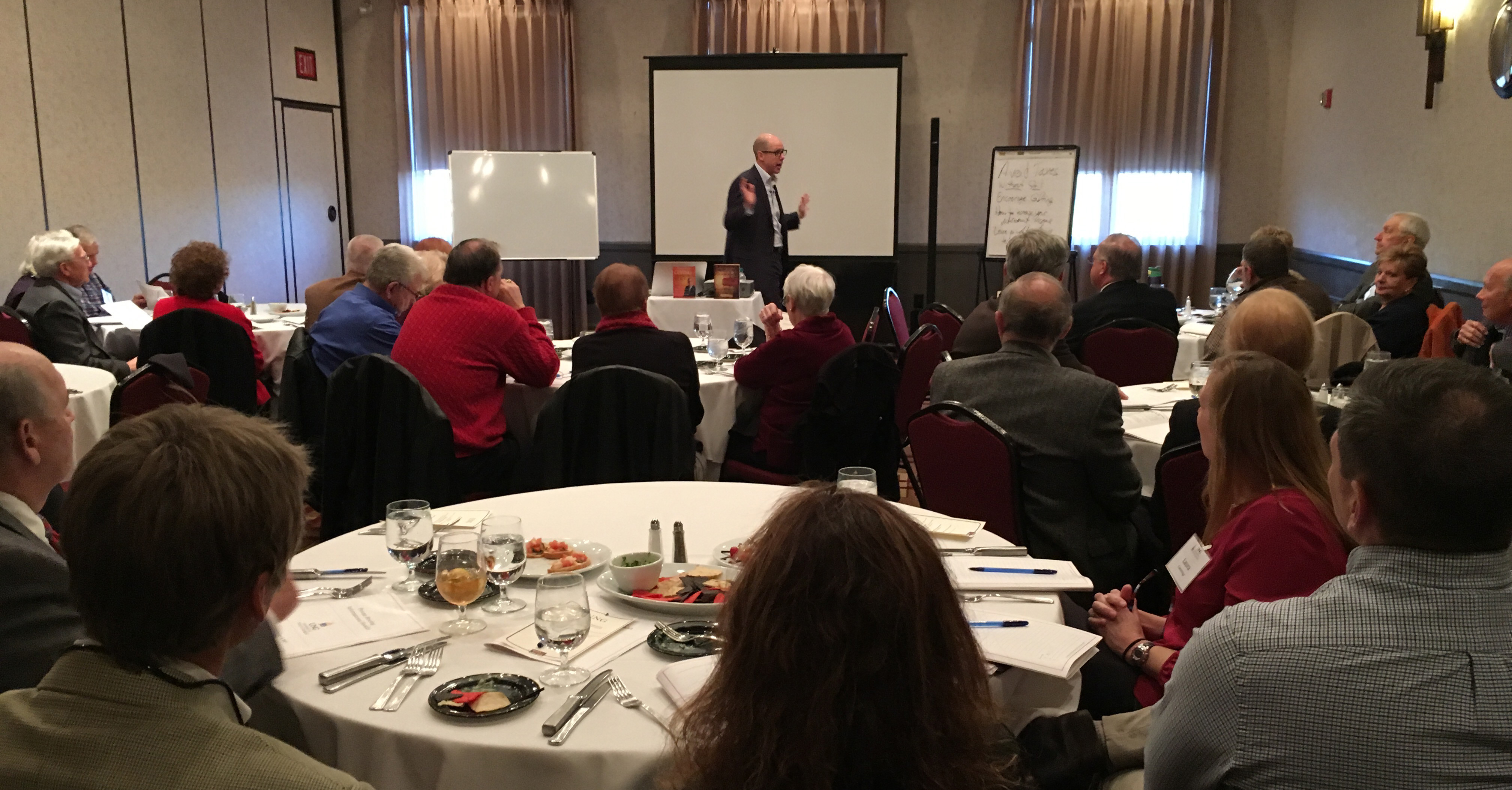 Book Barry to Speak at Your Next Event
Audiences across the country have benefited from Barry's personal story, real-life examples of life change and actionable insights. He has spoken to audiences of all sizes – from a dozen to hundreds – where executives, CEOs and business owners, charity professionals and donors gather for personalized wisdom. Barry's keynote presentations engage, inspire and motivate to action.
His down-to-earth and easy-to-understand motivational style allows audiences to tap into the underlying reasons they have to make a change. Then with clear principles, Barry demonstrates an action each person can take to benefit from his message.
Barry's high-energy and engaging presentations come from his research; his work with development professionals, charity executives and board members, business owners, corporate executives and professionals, and couples and families; and from his books, including "The Secret of Wealth With No Regrets," "Retire Abundantly" and "Giving Transforms You!"
Groups that have benefited from Barry's presentations include Piedmont Athens Regional Hospital Foundation, Grady Memorial Hospital Foundation, Mercy Care Foundation, Flux Pumps USA, Camp Highland, Center for the Visually Impaired, University of North Georgia, Georgia Hospital Association, Purposeful Planning Institute, People Helping People, Rainbow Village, Kings Ridge Christian School, St. Brendan's Catholic Church and Stonecreek Church, among many others.
To book — or re-book — Barry for your next event, call (678) 353-3355.
A few of the comments from audiences:
"Barry is an awesome speaker."
— Tammy Gilland, Piedmont Athens Regional Foundation executive director
"Barry Spencer's presentation to our national leaders and worldwide CEO was fabulous. His demeanor, attitude and approach to the talk was spot on. He addressed issues and topics that were relevant to our business right now. His talk exceeded expectations in delivery, content and relevancy. I highly recommend him as a speaker for your next meeting."
— Peter Fujimoto, president of Flux Pumps USA.
"Inspiring high-energy presenter!"
— Stephen Vinson, senior vice president of communications at Magnolia Mano
"Barry was awesome. I could listen to him talk all day. He is fun, inspirational, clear and just what we needed delivered for our group. We can't wait to meet with him again!"
— Laurie Kierkegaard, founder of NPLeadership
"Barry's presentation was enlightening and invigorating."
— Barbara Willm, Lexington Medical Center, vice president of development and community relations
"Barry's presentation was fast-paced, engaging and motivational."
— Tonia Cochran, AnMed Health Foundation
"Barry spoke with high energy, interactive questions and stories from his life experiences, and they were engaged with his presentation. I found him to be very accommodating, and afterward, I was very pleased with his address. I would heartily recommend Barry as a speaker."
— Bob Montague, principal at King's Ridge Christian School
"Barry Spencer delivers an informative presentation."
— Barbara
"Barry's presentation got me thinking about the needs of others first, which causes me to rethink how I will approach my next meetings."
— Deane
"As a result of working with Barry Spencer, it has been life changing for me. The principles he instilled in my life have given me a 'road map to success,' and in a very short time I started to see my life as a leader transformed (personally and professionally). I highly recommend working with Barry and his team."
— Luke
"Excellent information delivered at a good pace with clear benefits."
— Laurie
Book Barry to Energize your Next Event.
To request Barry for your next event and to check his availability, contact him today by emailing Barry@DonorMotivationGeorgia.com or calling (678) 353-3355.

Top 10 Planned Giving Challenges