When my son, Hudson, and I made our first trip to Uganda to work with Champions United, a soccer club where national players mentor children without fathers, Hudson was just 12 years old.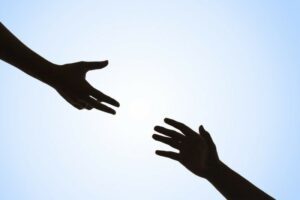 Fatherless children is an epidemic in Uganda, with over 90% of boys growing up without a father figure in their lives.
Meeting these boys, and seeing where they live, the other family members around them created a fresh perspective about a group of kids that wanted more, but where the opportunity was not the same for them as elsewhere in the world.
The schools have dirt floors, no windows or air conditioning, and they have shoes with so little tread on them that they grip better by running and playing barefoot.
This seems overwhelming to many of us here in the The States, but for them, it is their way of life and what they have to work with
In America, we live with a higher standard of living than 95 percent of the world.
You don't have to leave the country to experience this, either. I'm fortunate. My kids are fortunate.
Most folks around the world are not as fortunate. Many times, it's not a result of anything they've done, just when and where they were born.
"To whom much is given, much is expected."
Here's the really great thing – around the world or around the corner, just a "little" can mean a lot.
It's the same with planned giving. Planned giving allows a little to become a lot… for a long time. Remind donors that planned giving gives to them… and to you!
_____________________________________
Quote:
"The value of a man resides in what he gives and not in what he is capable of receiving."
-Albert Einstein