An Extended Thanksgiving
The Thanksgiving holiday kicked off this last weekend with my wife's parents coming to town.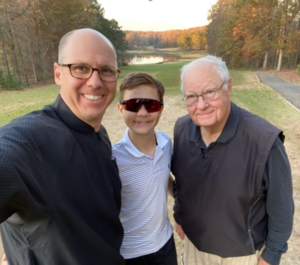 We started with a three-generation golf outing, where my son figured out how to hit a 240-yard drive down the center of the fairway using his baseball stance, motion, and swing.
It was a site to behold!
During our early Thanksgiving dinner on Sunday, we shared stories of what Thanksgiving looked like we were kids, followed by Thanksgiving Bingo.
Giving thanks can be a challenge for many this year, but oh-so-critical, especially this year!
Even more, it presents an opportunity to learn – again – to give thanks always.
The first century preacher and church leader, Paul said it like this, "Rejoice always… give thanks in all circumstances." (1 Thessalonians 5:16-18)
In other words, give thanks this week, but even more so, develop a ritual and habit of giving thanks at all times even when life is hard and circumstances don't seem to go your way.
Investor and philanthropist Sir John Templeton recommended in his book Discovering the Laws of Life, to give thanks all the time and called it thanksliving.
Thanksliving is the practice of perpetual gratitude.
As you gather this week to give thanks, find ways to give thanks for the health and wealth you have, but also seek to give thanks for the trials you have endured and even the circumstances that haven't yet gone "your way."
Give thanks always, and even more, begin to cultivate a habit of thanksliving!
Share your thanksgiving with donors and ask them to share with you!
_____________________________________
Quote:

"The best way out is always through."
– Robert Frost